Written by Alyce Evans and Sarah Ramsey-Caudle
Trade marks and tequila. They're two things we love, which have made headlines this week, as Kendall Jenner's '818 Tequila' brand landed itself in the middle of a lawsuit.
Background
On 16 February 2022, Clipbandits, LLC – the company behind competitor brand Tequila 512 (Tequila 512) – filed a claim against Jenner's company, K&Soda, LLC (818 Spirits) in the US District Court for the Central District of California.
Tequila 512 was established back in 2015 in Austin Texas and has become an award-winning tequila brand known for its 100% pure blue agave, volcanic spring water and a triple-distillation process.
In February 2021, Kendall Jenner revealed on her Instagram that she was behind the (previously) anonymous start-up brand '818 Tequila', which took out a first-place title at the 2020 World Tequila Awards, as well as numerous other awards and recognitions. Following her big reveal, Jenner officially launched 818 Tequila to the world on 18 May 2021.
Kendall Gets Kalled Out
Just two days after the 818 Tequila launch, Tequila 512 called out Jenner on their Instagram, writing:
"You may have seen that @kendalljenner released a "new" tequila today. Note the similarities, including the color, the name and it is made at the same distillery in Tequila Mexico as ours. Their batches are being distilled twice. Ours three times. Yet she is charging twice as much per bottle. And here we are getting messages like the one in this post image. Doesn't seem very cool. What do you think?"
However, seemingly unfazed, 818 Tequila continued on with business as usual.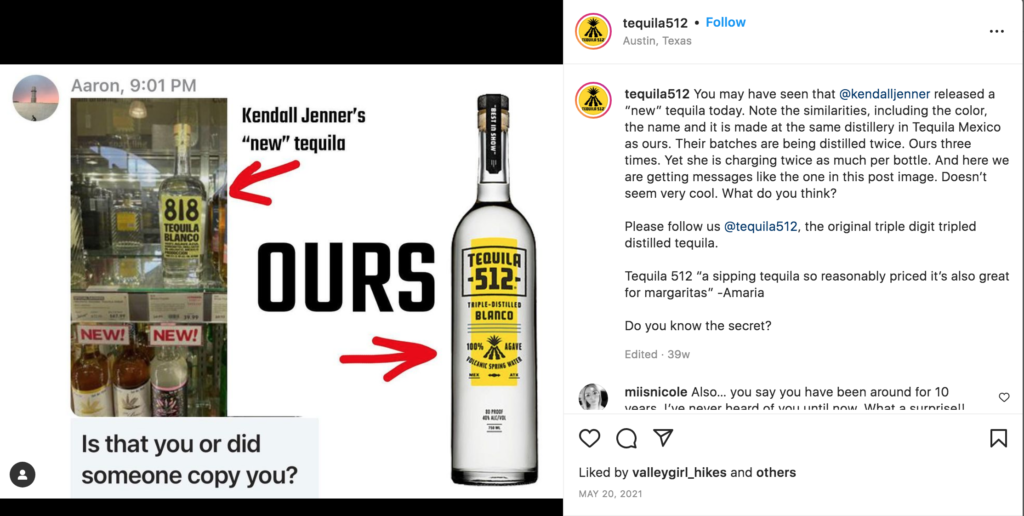 Kendall Goes To Court
Tequila 512 is suing 818 Spirits (the company behind Kendall's tequila brand) for trade mark infringement, false designation of origin and unfair competition.
Tequila 512 has taken particular issue with 818 Tequila's branding and packaging, with court documents claiming "out of the entire world of colors and shapes to use for product design, [the] Defendant chose to copy [the] Plaintiff's distinctive black lettering inside a vertical yellow rectangle".
Jenner has also publicly shared that 818 Tequila was named after the area code of the San Fernando Valley where she grew up, a move that Tequila 512 argues is a "blatant rip-off" of its idea to name Tequila 512 after the Austin, Texas area code.
Court documents further allege that the similarities between the brand names and packaging design will lead to consumer confusion, and/or demonstrates an intention by 818 Spirits to leverage off the reputation of Tequila 512.
Kim Kardashian West Gets Brought Into The Battle
Kendall's older sister, Kim Kardashian West, has a gaming app called 'Kim Kardashian: Hollywood', which was used to promote 818 Tequila. Unfortunately for Kim and Kendall (and in apparent error), a Tequila 512 bottle was included in the game instead of Kendall's 818 Tequila bottle.
Tequila 512 has named Kardashian-West as a defendant and cited this as an example of the similarities between the two brands and the possibility for confusion
What Does This Mean? Breaking Down The Law
Under 15 USC §1114, a person infringes a registered trade mark if the person uses in commerce, without the consent of the owner of the registered mark, any reproduction, counterfeit, copy or colourable imitation of the registered mark in connection with the sale, distribution or advertising of any goods or services in a manner that is likely to cause confusion or to deceive.
Tequila 512 has a registered trade mark for the word '512', and a pending trade mark for their stylised logo. Interestingly, Tequila 512 filed the application to trade mark their logo in July 2021 (after the launch of 818 Tequila) and has specifically claimed protection for the yellow and black colours featured in the logo.
Tequila 512 is seeking injunctive relief to stop 818 Tequila being produced, and an account of profits requiring Jenner to pay Tequila 512 all profits made from the sale of 818 Tequila.
818 Spirits is yet to file a response to the lawsuit, but we'll be watching closely to see how they respond.
Written by Alyce Evans and Sarah Ramsey-Caudle
Further Information
If you have any questions related to trade marks or trade mark infringement, please contact us through our online form or via email at hello@studiolegal.com.au.
Images from https://drink818.com/ and @tequila512 Instagram, shared for the purpose of reporting news.
DISCLAIMER
The information in this article is of a general nature. It does not constitute formal legal advice, and should not be relied on as such. Please see the full disclaimer in our website terms. Please contact Studio Legal if you are seeking advice about a specific legal matter.